Car owners in Manchester, Hillsborough County, Nashua, and Merrimack will need oil changes at regular intervals, usually between 5,000 and 7,500 miles. They can consult their owner's manual to see the actual recommended oil change intervals where they may also notice specific recommendations for the type of oil they should use. For instance, owners of the powerful Hellcat version of the Dodge Charger are recommended to only use full synthetic oils.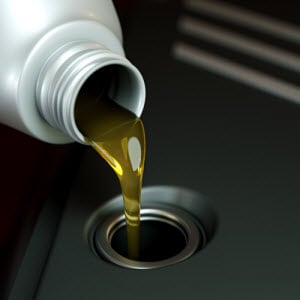 Owners of Dodges, Chryslers, Jeeps, and Rams may wonder why manuals and some mechanics may make recommendations for one type of oil over the other. They can read on to learn the chemical and performance differences between synthetic vs. conventional oil. They can also call or visit the Allen Mello Chrysler Dodge Jeep Ram (CDJR) service department online to get expert Mopar advice and to schedule their next vehicle servicing.
It's All in the Chemistry
Typical motor oils have been used in engines since the second industrial revolution. In 1866, an American scientist named John Ellis discovered that crude oils could be refined and mixed with other substances to provide lubrication for steam engine valves. Since these refined oil mixtures could function well at high temperatures, they prevented damage while keeping temperatures low and improving performance.
When internal combustion engines were being developed a few years later, these specially created engine oils provided a critical component in their functionality. Over time, motor oil technology grew, and additives like detergents and viscosity promoters made oil perform better in different situations.
People also experimented with making their own synthetic oils using raw crude or oil byproducts as a base. They discovered that these man-made oils had better consistency and stability, making them operate better at low temperatures while also preventing oil breakdowns at high temperatures.
Without synthetic oils, vehicles operating in cold conditions or high-rotation engines like jet turbines could have never been made possible.
The Benefits of Synthetic vs. the Extra Cost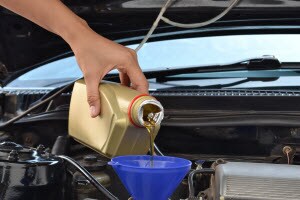 Most oils now are either full synthetic or a blend of synthetics. These products usually cost more than conventional oils, but their benefits make up for this extra cost.
Benefits of synthetic oils include:
      
Better cold-start performance, which is helpful for New Hampshire winters
          
Less oil breakdown, which can stop sludging and other problems
          
Better performance at high temperatures
          
Prolonged oil life, delaying needed oil changes
All these benefits offset the additional costs of synthetic oil by leading to savings. When considering that using non-recommended conventional oils in an engine can cause expensive damage or void warranties, synthetic oils offer an even better value proposition.
Deciding on Conventional vs. Synthetic Oils
Manchester, Hillsborough County, Nashua, and Merrimack drivers should always consult their owner's manual to see what recommended oil grade and type they should use. They should also make sure to monitor the oil level of your engine and look for signs of dirty or contaminated oils. They may even need to change their oil more often than their service manual or oil life monitoring system indicates.
They can also ask an experienced Mopar technician at the Allen Mello CDJR service department. Give us a call or book your appointment online today.