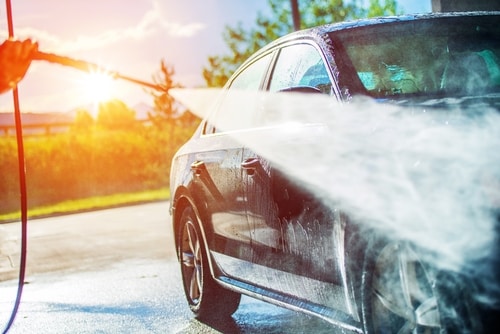 Spring has finally sprung, which means cleaning the house and, more importantly, cleaning your car. During the winter your car goes through the wringer. Cold weather isn't great for your battery, and the salt used to melt snow isn't good for your car's coat. That's why we're going to show drivers like you in the Nashua, Merrimack and Manchester area some helpful tips for spring cleaning your car.
Exterior Spring Cleaning
Regularly washing your car is important. It helps keep the car looking great, and it gets rid of the unwanted crud that accumulated during the harsh winter months. Make a plan for your next weekend to wash your car. Focus on getting the dirt and grime out from your tires and your undercarriage.
Do your research to find the best soap to use for your car. Make sure you scrub your tires and get all the loose pebbles and dried mud out of the tire's ridges. It's also important to apply a coat of wax to your car's exterior after you've completed washing it. It's important that you're not in direct sunlight when washing your car because the metal exterior can get hot, which can result in the wax melting off.
Interior Spring Cleaning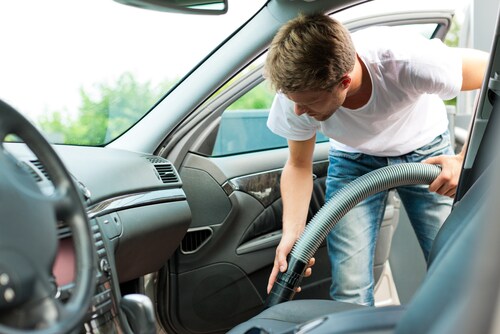 Once you've finished washing your car, you're going to want to turn your attention towards the interior. This means vacuuming the floor mats and carpet to get all those hidden leaves and dust out. Depending on your upholstery, you may want to buy a specialized cleaning solution to get rid of those unwanted stains left behind by accidental spills.
For the small crevices, you can use a can of compressed air to clean the spots that you can't reach. You can also have your interior detailed if you feel it needs professional attention. They can help fix stains or rips on your car's interior, which in turn will help keep its overall value intact.
Under the Hood
What is probably the most important part of your car's spring cleaning lies underneath the hood. Winter affects your car in many ways. One of the most important components to focus on is the battery. Your car's battery can be subjected to a lot of problems due to cold weather, which can affect its lifespan. Be sure to take your car into your authorized dealership for a check-up to make sure that your battery is operating at full capacity.
While you're having your battery inspected, you'll want to have the necessary manufacturer recommended maintenance. Having your oil changed, tires rotated and brakes checked will go a long way to keep you vehicle running efficiently.
Spring is the perfect time to get your vehicle in shape for the summer. Giving the right amount of attention to your vehicle's interior and exterior is a great way to help clean your car and make it look brand new.
For under the hood cleaning, drivers like you in the Nashua, Merrimack and Manchester area can always take your vehicle into our Service Center at Allen Mello Chrysler Dodge Jeep RAM. Our certified technicians will perform the necessary inspections and repairs to prep your car for summer.