If you're trying to decide which big truck you want to buy, use this comparison to make your choice a little easier. The 2015 Chevy Silverado and the 2015 Ram 1500 both have great features. But when you put them head to head, we have a feeling that Nashua, Merrimack, and Manchester truck seekers will side with the Ram. Read on to find out why.
Performance and Fuel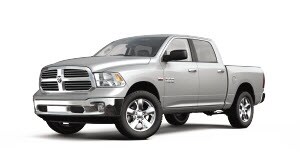 These trucks are designed for heavy-duty work. Buyers want plenty of strength, but they also want to get decent fuel economy. No one wants to stop at the gas station between job sites.
The 2015 Silverado comes with one of three engines. For the sake of this comparison, we'll focus on the bottom two. The 4.3-liter V6 offers 285 horsepower and 305 lb-ft of torque. The next engine is a larger 5.3-liter V8 that gives you 355 horsepower and 383 lb-ft of torque.
If you need a lot of power, you'll obviously want to go for the 5.3-liter V8. When properly equipped, this engine can help the Silverado tow up to 9,000 lbs.
The 2015 Ram 1500 also has three available engines. Even though its base engines are slightly smaller than the ones offered by Chevrolet, they put out more power (the holy grail of trucks). The 3.6-liter V6, for instance, gives you 305 horsepower and 269 lb-ft of torque, more than the Silverado's V6.
The Ram's turbodiesel 3.0-liter V6 pumps out 240 horsepower and 420 lb-ft of torque, besting the Silverado's 5.3-liter V8 when it comes to hauling power.
The Ram also offers better fuel efficiency than the Silverado. The Silverado's 5.3-liter V8 gets about 16 mpg in the city and 23 on the highway. The Ram's 3.0-liter turbodiesel gets an estimated 20 mpg in the city and 28 mpg on the highway. Even the base Ram, at 17 city and 25 highway mpg, bests the Silverado's middle powertrain.
Safety Features
These two trucks are pretty equal when it comes to safety features and crash test scores. They both have features such as:
       
Electronic Stability Control


   
Traction Control



       

Side curtain airbags

   
The Ram does come out a little ahead of the Silverado thanks to Dodge's Hill Start Assist and Trailer Sway Control.
Drive Feel
Whether you want a heavy-duty truck for work or play, you'll likely spend a lot of time sitting behind the steering wheel. That means you should pay close attention to how the truck feels to drive.
The Ram 1500 jiggles slightly when driving over bumpy roads, which is expected for a truck of its size. The good news is that engineers at Dodge included a rear coil-spring suspension that makes the ride smoother than what you get from most full-size trucks.
You'll have more fun driving the Ram 1500's turbodiesel six or top V8 model. There's nothing wrong with the V6, but if you're buying a truck of this size, you might as well spend a little more money on an engine that will make big jobs easier. Whether you choose the diesel or the top V8, taking advantage of their impressive efficiency stats and haul power mean you'll end up working faster with less frustration.
The 2015 Silverado also offers a decent driving experience. The suspension keeps bumps and noise at a minimum. There's really no way to eliminate this from large trucks without spending more cash.
The Silverado does have one problem that might affect your driving experience: It has a bit of a wider turning radius that could force you into awkward positions. Perhaps that's a minor complaint, but it can turn into a serious issue on job sites.
See what we're saying? Those in the Nashua, Merrimack, and Manchester area who are Ram ready can schedule a test drive of the 2015 Ram 1500 with Allen Mello Chrysler Jeep Dodge Ram today.