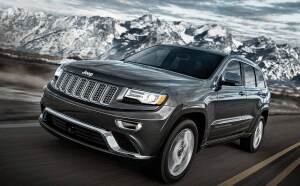 The 2016 Jeep Grand Cherokee is one of the latest offerings from the manufacturer of the sports utility vehicle. Jeep has upgraded looks and technologies for the newest generation of SUVs. As a result, the collection of Grand Cherokee trims has amazing features that all Jeep lovers will appreciate. 
At the Allen Mello CDJR dealership of Nashua, NH, we have a wide selection of Grand Cherokees, as well as other Jeep models, for those in the Merrimack and Manchester areas. In our latest review, we fill you in on all of the Grand Cherokee's cool, new technology features. 
The 2016 Jeep Grand Cherokee - NOW IN STOCK! 
Uconnect 
Every car manufacturer has tried to come up with a specialized infotainment system for their vehicles. An infotainment system is an interface, usually on a touchscreen monitor, that allows the driver and passengers to receive information from websites while listening to music or using the navigation system. 
Uconnect is the name of the infotainment system created by Jeep to give drivers and passengers the ultimate entertainment experience. It has an HD radio with AM/FM channels, 3D graphics, iPod integration, and a built in Wi-Fi hotspot. Notably, the 3D graphics were made especially for the Uconnect Navigation system; the system identifies landmarks and surrounding landscape using 3D effects. 
LED Daytime Running Lights 
LED lights can be manipulated into a variety of sizes and shapes, which makes them the perfect lights for the Grand Cherokee. They function to change energy into light, which prevents them from burning your hand if you have to touch them. 
Jeep chose to build their newest model generations with LED lights and halogen projector headlamps for a brilliant lighting effect. Not only do these lights look fantastic, they also boost your visibility, keeping you safer as well.
Sound System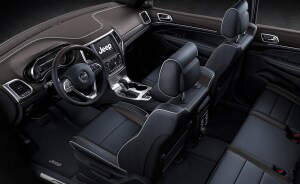 The standard six-speaker audio system is one of the best features of the entertainment package found in these vehicles. It has speakers mounted on the instrument panel and side doors for a surround-sound effect. 
There are also two upgrade options available. The first is a nine-speaker system complete with a subwoofer and 506-watt amplifier. The second is a custom Harman Kardon audio system with 19 Greenedge loudspeakers. 
Driver Assist Technology 
The capabilities offered through the driver assist package are some of the best on the market. Some of the features include Forward Collision Warning Plus, Blind Spot Monitoring, a rear backup camera, and Electronic Stability Control. All of these features combine to give you the safest and most secure driving experience on the road. 
Customized Instrument Panel 
The 2016 Jeep Grand Cherokee instrument cluster has been redesigned for this latest generation. This panel has a 7-inch screen so you can configure it to show the navigation system, the Quadra-lift suspension system, gauge readings, and much more. 
Schedule a Test Drive in the New Grand Cherokee 
Here at Allen Mello CDJR, we pride ourselves on having the best vehicles Nashua, NH, has to offer. It you live in the Merrimack, Manchester, or Nashua areas, schedule a test drive with our dealership or stop by to view some of our newest models. Our friendly staff will be waiting to discuss financing and leasing options with you. 
Call us or contact us online today!