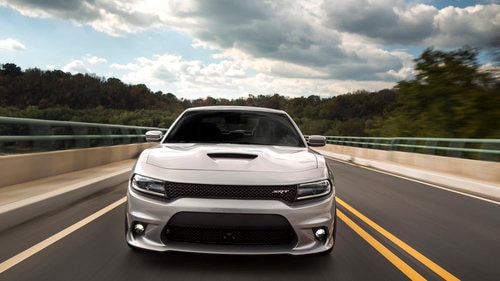 Unmistakable on American roadways, the
Dodge Charger
was first introduced at the 1966 Rose Bowl, touted as the "Leader of the Dodge Rebellion." Since then, its street cred has only sharpened, scaring the competition and redefining the meaning of horsepower. The 2015 model year launched the Hellcat version of the Charger, a beast of a machine capable of 707 horsepower, courtesy of its supercharged V8 engine. 
How many of us need that much muscle to tackle our commute? Sure, the track enthusiasts can't fathom anything less; however, for those of us who like to flirt with the extreme without actually living it will find more than enough power from either the 2017 Dodge Charger R/T Scat Pack or SRT 392. 
But, which one is ultimately the right choice for you? When it comes to a showdown of the 2017 Dodge Charger R/T Scat Pack vs. SRT 392, there's nothing like a test drive to make the final call. In the meantime, here are few key distinctions between both models that might guide your decision… 
R/T Scat Pack vs SRT 392 - A Few Features in Common
Although the Scat Pack name has vintage roots, the Charger R/T Scat Pack was released as a new model in 2015. Before diving into their differences, there are a few shared characteristics between these Chargers. 
Performance
First off, the Scat Pack and SRT are both equipped with a 6.4-liter Hemi V8 engine, capable of 485 horsepower and 475 lb-ft of torque. Standard operation comes from the six-speed manual transmission, although an eight-speed automatic transmission is optional. Fuel economy is, of course, the same with EPA estimates listed at 15 city mpg and 25 highway. Both beasts stand ready to pounce on 20-inch alloy wheels… but then details start to diverge…
R/T Scat Pack vs SRT 392 - The Differences
On the SRT 392's wheels, expect wider 275/40R20 tires, compared to the Scat Pack's slightly smaller 245/45R20 tires. While the SRT 392 features an adaptive suspension, the Scat Pack is supported by a Bilstein sport suspension. Braking power is provided by 6-piston Brembo brake calipers on the SRT 392, with the Scat Pack sporting 4-piston Brembo brake calipers. 
Given the difference in starting MSRP - $51,145 for the SRTR 392 and $44,820 for the R/T Scat Pack, it's not surprising that the interior of the SRT 392 offers more in terms of creature comforts. When it comes to deciding which of these two Chargers is right for you - here, its a balance between budget and boosted comfort. 
For example, the Scat Pack model's cloth seats pale in comparison to the SRT's leather/Alcantara interior, with heated and ventilated front seats, complemented by a heated, leather-wrapped steering wheel. Drivers who need to jam out to their favorite tunes will appreciate the SRT's high-end 18-speaker sound system. 
Although the exterior is similar enough - both retain classic looks and that aggressive edge, a few styling cues set the two apart. The Scat Pack's front fascia features projector headlights, while the SRT's is illuminated by HID headlights. The functional hood scoop on the SRT is another physical giveaway. 
With no difference in power and performance, the deciding factor will most likely be based on consumer budget first and foremost, along with individual preferences based on interior amenities and whether a driver's geographic location presents a need for those SRT 392 heated bells and whistles.