Allen Mello CDJR dealership is committed to helping you make the best choice when it comes to leasing or financing your new or pre-owned vehicle. We offer many different financing options based on factors such as the vehicle's value and the customer's credit history. If you intend on buying a car, it's important to familiarize yourself with all the options available to you. 
Customers in Nashua, Merrimack, and Manchester often have to decide if leasing or financing works better for them. In this article, we break down the major differences between leasing and purchasing a new or pre-owned vehicle. Here we list all of the pros and cons of each so you can determine which choice is right for you. 
What's Leasing?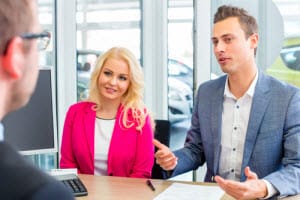 In short, leasing is like an extended car rental. Customers get to use the car for little to no money down with an agreement for monthly payments. Lease agreements are more common for brand-new vehicles and luxury cars. As the seller, the dealership retains full control of the vehicle, so you return the car to the dealership after the termination of the lease agreement. 
Those who lease a car are usually bound by the car manufacturer's factory warranty. One of the main stipulations is that you can only drive the car for a limited number of miles each year. The mileage limit can range from 10,000 to 15,000 miles per year. If you go over the allotted mileage, you'll have to pay a penalty. However, many dealerships allow you to purchase extra miles. 
Leasing is a great option for drivers that like to have a new car every few years, as agreements typically last for two to three years, yet there are a few downsides. With leasing, you end up spending more money because you're constantly changing vehicles. There are also some charges for wear and tear, but when it comes to repair costs, drivers pay a lower fee. Another disadvantage is that, under the warranty, you're not allowed to modify the vehicle. It's important that you consider all of these factors before you lease a vehicle.  
Benefits of Buying a Car 
Generally, drivers purchase pre-owned vehicles. Buying a vehicle, especially a used one, makes sense if the driver plans on keeping the vehicle for an extended period of time. You retain full ownership of the car so long as the car is paid off in full. There are no mileage limits or modification restrictions when a customer decides to purchase a vehicle. 
Buyers can choose to get a loan and put a down payment on the vehicle or buy the vehicle outright. With a car loan, drivers are responsible for a monthly payment until the total value of the car is paid. Excess costs such as interest and sales tax are calculated into the loan. 
Typically, the down payment and monthly car payments are higher than lease payments. Therefore, drivers are stuck paying off a car that depreciates in value each year. Also, the warranty in place for a vehicle only lasts for a certain amount of time. Warranties can last for one to five years, covering repair costs until the termination date, then the driver is responsible for all repairs. 
In summary, buying a vehicle is a good choice for drivers who want to retain full ownership over their vehicle. 
Purchasing Your New Car 
Drivers in the Merrimack and Manchester areas should head down to the Allen Mello CDJR dealership in Nashua, NH, to discuss financing and leasing options for our wide selection of vehicles. Our friendly staff will be on hand to answer all of your questions and help you get the car of our dreams. Contact us today!