The flavor of the season near Nashua, NH, is definitely pumpkin. Whatever you like to do or whatever your tastes may be, there's a pumpkin experience waiting for you this fall.
In this guide, we tell you where to find the best pumpkin everything near Nashua, NH, so you can get your seasonal fix.
Best Pumpkin Drinks
Best Pumpkin Ale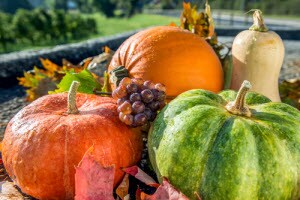 The award goes to Stark Brewing Company, formerly known as Milly's Tavern, for their Grumpy Pumpkin Ale. Brewed in Manchester, NH, this ale is 5% alcohol by volume and available in 12-oz six-packs, 22-oz bottles, and draft.
It's made with about 400 pounds of pumpkins, so you can expect a bold pumpkin flavor with hints of nutmeg and vanilla.
Best Pumpkin Latté
You can find the best pumpkin latté in Nashua at the Riverwalk Café and Music Bar. Located on Railroad Square, Riverwalk offers a wide variety of shows every week, including Jazz Sundays and Wednesday Night Open Mic, as well as craft cocktails and coffee.
They only offer their renowned pumpkin latté during the fall, so make sure to try it as soon as you can.
Best Pumpkin Treats
Best Pumpkin Pancakes
The best pumpkin pancakes around Nashua are from Parker's Maple Barn in Mason, NH. In addition to their restaurant, Parker's Maple Barn sells jars of maple syrup, jams and jellies, candles, books, souvenirs, and lots of other types of local food and merchandise.
They serve breakfast all day, which means you can order these delicious pumpkin creations whenever you're craving them. They're 6-inch pancakes, and for $5.50 you get one, for $6.50 you get two, and for $7.50 you get three.
Best Pumpkin Pie
The award for best pumpkin pie in town goes to the Black Forest Café. Their motto is Comfort Food with a Creative Twist, and that's exactly what they serve with their delectable pumpkin pie.
It's available seasonally, and they're open Monday from 11 am to 3 pm, Tuesday through Saturday from 11am to 8 pm, and Sunday from 8 am to 2:30 pm.
Best Pumpkin Activity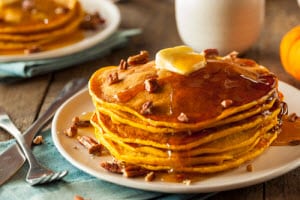 If you've eaten and drunk your fill of pumpkin delicacies, it's time to have a pumpkin picking experience. All of this pumpkin flavoring has to come from somewhere, right?
You can visit Lull Farm in Hollis, NH, during September and October for the best pumpkin picking experience around. And while you're there, you can participate in several other classic fall activities: apple picking, pumpkin carving, and pumpkin lighting on Halloween night.
What's Your Favorite Pumpkin Thing Near Nashua?
We hope this guide to the best pumpkin everything near Nashua, NH, was informative, and that it sparked your interest in trying a new pumpkin taste or experience this fall.
If you know about any other pumpkin secrets in Nashua or the surrounding areas, please leave a comment on this post and share your favorites with our other readers.
Browse the rest of this blog to discover more exciting opportunities and events taking place in your community this fall.