Fall weather is here, which means so are all of the timeless activities that come along with it: pumpkin picking, hayrides, haunted houses and, of course, corn mazes!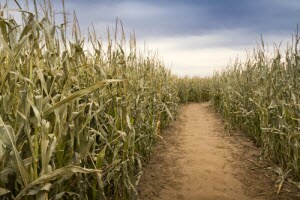 Although the corn maze is surely a classic staple of American childhood adventure, it's for people of any age. So take your kids to a corn maze this fall, but bring the rest of your family and friends, too.
Here's your guide to the best corn mazes near Hillsborough County, NH.
This corn maze presents a challenge, as it was designed for difficulty. The maze is open every day from 10 am to 5 pm, with the last participants entering at 4 pm. The cost is $7 for adults and $5 for children 9 years old and younger.
However, to make things more interesting, the Beans and Greens corn maze is open on certain nights, for which reservations are required. Click on the link for more details.
Three mazes, 4 acres each, about 40 minutes to complete—are you up for the challenge?
Beech Hill Farm and Ice Cream Barn corn mazes are unique because they feature updated themes each year. This year's themes are the National Parks' 100th Anniversary and endangered species of New Hampshire. For each theme, there's a brochure with questions, and the answers lie hidden in the maze.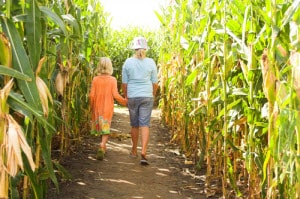 The three corn mazes at the Coppal House Farm are carved out from swaths of corn over 10 feet high. There are several ways to get through each maze, all of which take about 35 to 45 minutes.
It costs $9 for ages 13 and up. It only costs $7 for children ages 5 to 12, seniors ages 62 and up, and any college students or military personnel who can provide proper identification. Admission for children under 5 is free.
J & F Farms is open to the public, so individuals and families can stop by throughout the day and try their best to make it through the corn maze. But it's also available to rent out for private group field trips. This is ideal for large families, Boy or Girl Scout troops, birthday parties, and schools.
At over 6 acres, and with stalks as tall as 12 feet, the Scamman Farm corn maze is enormous. The farmers also cut out a new design every year. In the past, designs have included everything from different geometric shapes to a tractor in a pumpkin patch.
This maze costs $9 for those 12 and older, $7 for children 5 to 11, and $7 for military personnel and seniors. It's free of charge for children under 5.
What's Your Favorite Corn Maze Near Hillsborough County?
We hope that you found this guide to the best corn mazes near Hillsborough County, NH, useful.
Please leave a comment telling us about any experiences that you've had at these farms. Also, let us know if you have another favorite corn maze near Hillsborough County that wasn't included in the list. Browse the rest of our blog to find more information about fall events and activities taking place in your community this year.