According to recent data, almost 13 percent of men will be diagnosed with prostate cancer at some point in their lives. It's time to do something to change that. It's time to get involved with No Shave November.
November is the month that separates the men from the boys, when you can have some fun growing out your beard for a worthwhile cause. No Shave November is an internationally recognized, month-long charity event intended to raise awareness of cancer and other diseases in men, especially prostate cancer.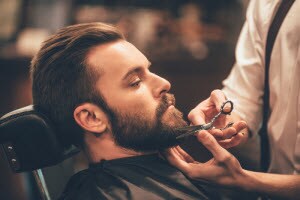 But if you're a man living in Nashua, New Hampshire, that doesn't mean that you have to look like a Neanderthal for the entire month. We created a list of the best barber shops for No Shave November in Nashua, NH.
Location: 76 1/2 W Hollis Street, Nashua
Hours: Monday - Saturday, 9:00 am - 8:00 pm; Sunday, closed
Price: $25 for a haircut with a beard, $15 for a shape up with a beard
This is your classic barbershop: you'll get a great haircut, as the owner has been cutting men's hair for over 20 years.
But you'll also get a community-centered, social experience. Traditionally, the barbershop is a place for interesting conversation. It's where men go to talk about the things that matter, like what's going on around town, in their lives, with their families, politics, sports, etc. Major League Barbers proudly upholds this tradition.
Location: 140 Main Street, Nashua
Hours: Monday - Saturday, 9:00 am - 6:00 pm; Sunday, closed
Price: $21 for a hot towel shave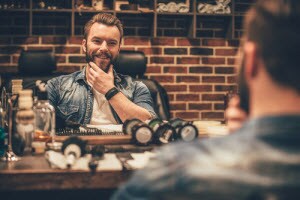 This is way more than just a barbershop. VIP Barbershop & Lounge has two full-service lounges, one designed for entertainment and one designed for business. If you're looking to relax, there is an HD TV complete with ESPN, a PS3 and a DVD player. And if you're looking to do work, there is a section with several computers.
They also serve all types of refreshments, from water and coffee to beer and wine, depending on what type of mood you're in. And the barbers are very careful to make sure that you don't get your whiskers in your water or your beard in your beer.
Location: 90 West Pearl Street, Nashua
Hours: Monday - Wednesday, 9:00 am - 4:00 pm; Thursday - Friday, 9:00 am - 6:00 pm; Saturday, 8:00 am - 1:00 pm; Sunday, closed
Prices: $35 for a hot towel shave, $14 for a beard trim
Wilfred's Barbershop is a historic landmark in downtown Nashua. They have been open since 1937, almost 80 years. And in that entire time, there have only been two owners!
In other words, this is a barbershop that understands the importance of respect and tradition. They provide quality, old-school haircuts in a flexible social environment. So when it's just the guys, things are relaxed and nobody hesitates to speak their mind. But when women and children are present, it's time to maintain a polite demeanor and give them the respect that they deserve.
Do You have Another Favorite Barbershop near Nashua, NH?
We hope that you found this article about the best barbershops for No Shave November in Nashua, New Hampshire, to be helpful. You can go to any of these places throughout the month to get your beard cleaned up, and come back to shave it all off on December 1st!
If you like any of the barbershops that we mentioned, or if you know of any other good ones around town, leave a comment on this post. Our other readers would love to hear what you have to say.
We also hope that you participate in No Shave November this year and that you really enjoy contributing to such an important cause. Don't forget to check out all of the other content on our blog to learn more about what's going on in Nashua, NH, this November!