The Best Outdoor Dining in Manchester, NH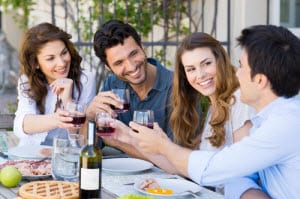 Now that winter is over, you're itching to go out to eat at a restaurant with an outdoor patio. Outdoor dining is great because you can enjoy great food while relaxing and enjoying the beautiful weather. That's why we're going to let people like you in the Nashua, Manchester and Merrimack area in on the best outdoor dining in Manchester.
Cotton
This Manchester-based restaurant offers a variety of fusion dishes that you can enjoy while sitting outside on their luscious patio. Sample the Tuna Tataki or a healthy helping of Creole Jambalaya while washing them down with a delicious hand-crafted cocktail like a Flirtini, a vodka-champagne martini with pineapple, or a savory Blueberry Basil Mojito, which is one of the perfect drinks to enjoy your sunset dinner at Cotton.
KC's Rib Shack
Nothing says outdoor dining like some great barbeque. KC's Rib Shack is a smoke shack and barbeque pit where you can dig in and enjoy yourself while eating out at the Tiki bar dining area. Start off with some Bacon Sriracha Deviled Eggs then work your way towards the Feedbag Shovel, which consists of more than 6 pounds of BBQ meat including ribs, pulled pork and chicken, smoked sausage and brisket. Bring some friends because this dish needs teamwork.
The Patio
Did you ever have to choose whether you wanted to attend a baseball game or go out to eat? Now you can have both! The Patio at the Hilton Garden Inn overlooks Northeast Delta Dental Stadium, so you can enjoy a nice outdoor dinner and watch a baseball game. Start off with some steamed mussels or bruschetta, then try some Steak Tips Susanne or Sicilian Swordfish. The menu and atmosphere are sure to please all of your senses.
Republic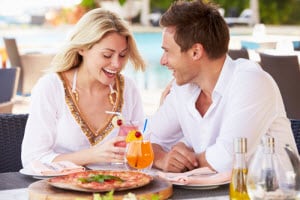 You don't have to bring a picnic blanket to a farm to enjoy some fresh ingredients outdoors. Actually, Republic can help you. This farm-to-table restaurant offers a variety of fresh dishes with locally grown and sourced ingredients. Sit outside and enjoy the beautiful views of Elm Street in Manchester while you dine on Turkish Chicken or a Balsamic Pear and Great Hill Blue flatbread pizza. Outdoor seating is limited so get there early so you can enjoy quality food in a beautiful ambience.
Theo's Pizza Restaurant
Everybody loves Pizza, so why not enjoy it while sitting outside? Not only can you get together with some friends and dine on some pies in an outdoor patio that accommodates 50, but it also features flat screen TV's. You can sample a whole array of pies like Buffalo Chicken, Greek Pizza or Gyro while watching the big game on one of the TV's at Theo's Pizza Restaurant.
Dining outdoors is great because it gets you out of the house so you can enjoy some quality food while taking advantage of the beautiful weather. For food lovers in the Nashua, Merrimack and Manchester area, plan your weekend outing with any of these great restaurants.