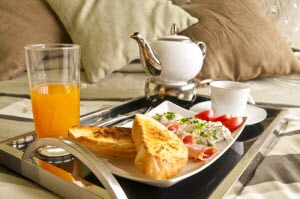 When you're looking to visit the Nashua, Merrimack and Manchester area, you may be searching for hotels, but why would you want to stay in a hotel when you can enjoy a bed and breakfast? Hotels are accommodating but their cookie-cutter design and static feeling lacks some much needed character. Bed and Breakfasts offer you a bit of everything, like a nice room with a lush design, a great view and even breakfast waiting for you in the morning. That's why we're giving you a list of the best Bed and Breakfasts in the Manchester, NH, area.
Ash Street Inn
Ash Street Inn is a boutique bed and breakfast in the heart of Manchester. It's owned by Margit and Rob. Margit is an expert in hospitality and Rob is a certified chef. Their combined expertise gives you one of the best bed and breakfasts in the area. Ash Street Inn offers five rooms, all fully furnished with their own unique décor. Book your stay today at the Ash Street Inn.
Old Story Farm Bed & Breakfast Inn
Old Story Farm gives you the benefit of a place to stay and a luscious authentic farm all in one. This home was built around 1760 and served as a historic location for the French and Indian War. This bed and breakfast offers a variety of rooms that reflect different time periods that this farm house endured. You have your options of the 1760 room, the 1820 room, the 1821 room or the 1930 room. Make your stay historic with Old Story Farm.
Stephen Clay Homestead Bed & Breakfast
The Stephen Clay Homestead has been operating as a bed and breakfast since 2000, despite the fact that this home is over 200 years old. Stephen Clay designed this home in the late 1700s on 45 acres of land. This historic home features four rooms, including the Concord Suite, the Charmingfare Room, the Exeter Room and the Music Room. This bed and breakfast also serves as a beautiful location for weddings. Book your room or wedding at this wonderfully historic location.
Tiffany Gardens Bed & Breakfast
When you stay at Tiffany Gardens, you're staying at one of the top 10 garden inns, according to BedandBreakfast.com. This location features more than 300 varieties of shrubs and flowering trees, as well as fish ponds and tiered waterfalls. This bed and breakfast features two suites that you can stay in. The Juniper room is a large open-concept suite that overlooks the garden. It features a queen size bed and a modern bathroom with a tub and two sinks. The Rose Room features a queen size bed with a gas-powered fireplace that's perfect for the winter weather. This bed and breakfast also offers vegetarian, vegan and gluten-free breakfasts upon request. Book your stay at Tiffany Gardens today.
If you plan on visiting the Nashua, Merrimack or Manchester area, these bed and breakfasts offer you an unforgettable experience with a feeling of home. Book any of these locations that will be the perfect complement to your trip.